Looking for a team that can design and develop an impactful mobile app for your business? Thinking of ways to leverage your company? Want to connect with your audiences? You don't have to look further because our team is here to save the day!
GRAFING d.o.o. is a Croatia-based mobile app and web development company that brings together innovation and critical thinking. Established in 2016, our company is proud to have talented teammates that are dedicated to helping brands solve their unique challenges and needs.
We have a simple goal, and that's to be the best partner for our clients. Thanks to their tremendous support, we're able to welcome countless opportunities. As we draw closer to the end of the year, the GRAFING d.o.o. team is excited to announce that we've recently made our debut on Clutch!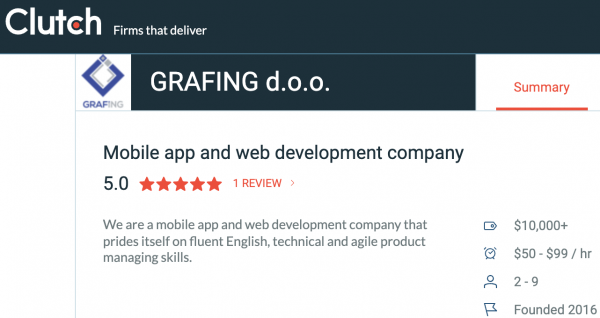 First-Ever Review
Clutch is hugely respected within the B2B space for connecting small, mid-market, and enterprise businesses with service providers that fit their needs. Their website hosts a massive collection of client reviews, market reports, and agency rankings.
Last month, Shawn Milochik, the CTO of GroovyCar, a vehicle auction platform from Philadelphia, wrote an online review for our team's previous iOS and Android app development. The mobile app will serve as their MVP, and because of that, they listed our expert services.
The GRAFING d.o.o. team created a fully functioning product from scratch — from the mockups to the complex wireframes. During the partnership, we kept in contact with the client to update them on the progress and regularly gather their insights about the work.
In the results and feedback section of the review, our client wrote this when asked about what they found to be the most standout thing about our team:
"They got the job done at a budget-friendly price. Also always very friendly and professional. Excellent communication in English for a non-US company. A language barrier was never an issue." — CTO, GroovyCar
Great feedback like this motivates us to work even harder! Thank you to GroovyCar for entrusting us with your massive project. It's a huge honor for our team to work with you.
This review is just one example of our many successful projects. We can't wait to gain traction on Clutch and earn more client insights like this.
Moreover, GRAFING d.o.o. was featured as a top-notch design firm on Top Design Firms, Clutch's new sister website. According to their page, our team's proven track records deem us a spot on their best-performing list.
We couldn't be more proud of this achievement. Our team is doing great today thanks to the constant support of everyone around us.
Want to work together? Tell us more about what we can do for you and get in touch with our team. We're absolutely ecstatic to meet you!